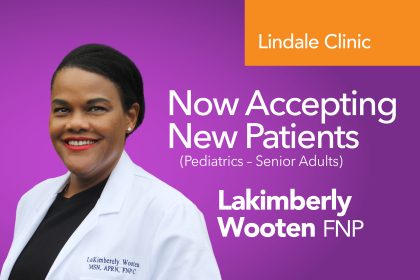 LaKimberly is now accepting pediatric to senior adult patients. She is available Monday through Friday, from 8 a.m. to 5 p.m.
Born and raised in Tyler, Lakimberely proudly calls East Texas home. Lakimberely got her medical start as a nurse at the UT Tyler Health intensive care unit.
She received her Family Nurse Practioner Certification at the University of Texas at Arlington in 2020, and she completed clinicals at (TIMA)Tyler Internal Medicine Associates in Lindale, TX, under the supervision of Dr. Anthony Davis.
One primary emphasis Lakimberely is most passionate about is continuity of care. "There is a lot about medicine that is not explained to people; with better education comes understanding about 'how' and 'why' medicine works," says Lakimberly. "The more patients know, the more involved they will be in their health and wellness."
Lakimberely enjoys spending time with family, traveling, beaches, and touring contemporary art museums.