New PhyNet Clinic in Lindale Tx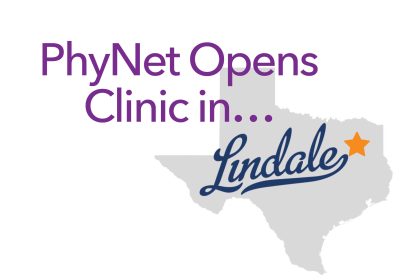 Lindale is a beautiful city, and PhyNet is proud to be a new chamber member and medical provider in the town. PhyNet Health offers a wide range of primary care services for the whole family, including, Pediatrics, Men's and Women's Health, Chronic Care Management, Allergy, Sinus and Asthama, Annual Wellness Visits, and a wide array of preventative and internal medicine services. PhyNet Health now has 9 East Texas Primary Care clinics with the addition of Lindale, including clinics in Longview, Kilgore, Gladewater, Tatum, Jefferson, Lone Star, Hughes Springs, and Linden.
It's a privilege to continue the Hand's legacy and offer high-level primary care for the people of Lindale. PhyNet Health will continue Wendell Hand, DO, and Donna Hand, DO's practice that has provided health care to patients in Lindale for more than 35 years.
The new primary care provider for PhyNet – Lindale Medical Clinic will be Ichabod Balkcom MD. The same tradition of excellent care the Lindale community has grown to expect will continue as PhyNet Health makes the branding change. Although retiring, long-term providers, Doctors Donna and Wendell Hand will remain on-staff in consulting roles for one year to ensure a continuity of care during the transition. Additionally, a Family Nurse Practitioner will join the care team.
Dr. Ichabod Balkcom MD has 34 years of service in healthcare, which has revealed a dedication to medicine. Dr. Balkcom was born in Albuquerque, New Mexico, and graduated from Georgia Southwestern College in Americus, Georgia. Dr. Balkcom first received his medical training in Guadalajara, Mexico. He returned to the United States in 1984. He then entered residency at Ross University School of Medicine in Columbus, Georgia, where he earned the title of Chief Resident. After his residency in family practice, he and his family moved to Cuthbert, Georgia, where he practiced for four years. The family then moved to Sulphur Springs, where he enjoyed working in private practice for 24 years. After leaving his private practice, he worked for Christus Trinity Clinic for four years. Dr. Balkcom is a compassionate and caring physician and has an excellent reputation for serving his patients in the Sulphur Springs area. He looks forward to continuing the legacy of the Lindale Medical Clinic.