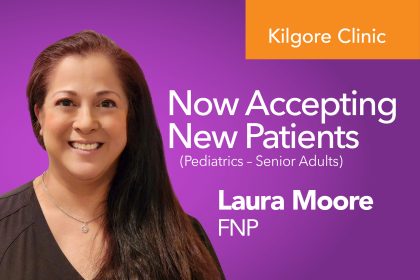 Laura began her career in Corpus Christi, Texas, where she worked in the ER and hospital setting for over ten years. Laura's (LVN) nursing experience spans various clinical disciplines, including Primary Care, Urgent Care, Hematology, Gastroenterology, Cardiac-Telemetry, and Oncology.
After relocating to East Texas, she obtained a Registered Nurse (RN) license from Kilgore College in 2012.
Her passion for medicine led her to pursue higher education. She received her Bachelor's degree from West Texas A&M University in 2015 and her Family Nurse Practitioner (FNP) Certification from Walden
University in 2018.
Before joining the PhyNet Health System, Laura worked at Genesis PrimeCare in Marshall.
Laura is bilingual and speaks fluent Spanish and English. She sees firsthand the importance of
explaining treatment plans in the patient's native language, as many choose not to seek care due to language barriers.
She is passionate about providing primary care and preventative medicine to children and adults from all walks of life and is currently accepting new patients.
Laura is very family oriented and loves spending time with her granddaughter. She enjoys outdoor activities and swimming.